Welcome to my website!


TriYoga is the art and science of yogaflow®--the kriyavati-inspired trinity flow of asana, pranayama and mudra -- founded by world-renowned yogini Kali Ray. This revolutionary method, taught in 40+ countries including 65 TriYoga Centers & Communities and over 1750 certified teachers world-wide, is a systematic approach to postures and breathing practices that emphasizes flow of energy in the spine and precise body alignment. TriYoga instruction aims to provide students with a variety of benefits; among them (with regular practice)
increased flexibility
increased strength
better posture
more energy & better health
improved concentration
a calm, clear, balanced mind
If you are new to this classic method, please come to experience TriYoga for yourself.
If you are familiar with TriYoga, please help spread the word--by sharing your experience with friends and associates!

In the flow,


Maretta Jeuland, E-RYT 200
Certified TriYoga Instructor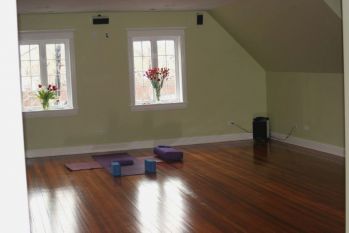 ---
"Through applying the principles of yogaflow, one begins to feel the life-flow.
Extension in all directions expands the awareness.
Relaxation-in-action allows one to maintain balance.
Rhythm of body and breath tunes one in to the inner dance.
Economy of movement cultivates having only thoughts that are needed.
Wave-like movements remind us to remain at peace while experiencing the pairs of opposites." ~ Kaliji
"Nothing is so strong as gentleness, and nothing is so gentle as real strength. " ~R.W. Sockman

Search Our Website
---
Map & Directions
Need a map and/or directions to our location? Check out our interactive map to ensure you arrive safe and on time for your yoga class
---
Regular Spring Classes: four levels, six days/week: Mon through Sat (morning &/or evening). See Class Schedule Page for specific days, times.

Yes, early Saturday class 5/28 will meet--!!
NEW Basics CLASS Mondays, 4:30-6 pm. Sign up to reserve your space! Taught by Stephanie Stieber.
(but no class on 5/30, Memorial Day)

Sat a.m. Basics class, taught by Angela Paranjape (Saturday May 28 class Cancelled).

PLEASE CONFIRM that space is available before coming to a class (by phone or email)!

Please see http://triyoga.com/portfolio-items/ty-chicago-community/ for more about our mission!
GIFT CERTIFICATES for special events are a wonderful idea!

SPECIAL THANKS to photographer Megan Doherty for studio photos on this website..... :)

---
"Your vision will become clear only when you can look into your heart. Who looks outside, dreams; who looks inside, awakens." ~ Carl Jung
"We are not human beings on a spiritual journey, but spiritual beings on a human journey." ~ Chardin