Welcome to my website!


TriYoga is the art and science of yogaflow®--the kriyavati-inspired trinity flow of asana, pranayama and mudra -- founded by world-renowned yogini Kali Ray. This revolutionary method, taught in 40+ countries including 66 TriYoga Centers & Communities and 1800+ certified teachers world-wide, is a systematic approach to postures and breathing practices that emphasizes flow of energy in the spine and precise body alignment. TriYoga instruction aims to provide students with a variety of benefits (with regular practice), among them
increased flexibility
increased strength
better posture
more energy & better health
improved concentration
calm, clear, balanced mind
If you are new to this classic method, please come to experience TriYoga for yourself.
If you are familiar with TriYoga, please help spread the word--by sharing your experience with friends and associates!

In the flow,


Maretta Jeuland, E-RYT 200
Certified TriYoga Instructor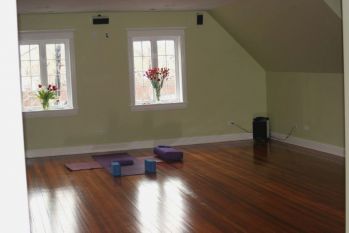 ---
"Through applying the principles of yogaflow, one begins to feel the life-flow.
Extension in all directions expands the awareness.
Relaxation-in-action allows one to maintain balance.
Rhythm of body and breath tunes one in to the inner dance.
Economy of movement cultivates having only thoughts that are needed.
Wave-like movements remind us to remain at peace while experiencing the pairs of opposites." ~ Kaliji
"Nothing is so strong as gentleness, and nothing is so gentle as real strength. " ~R.W. Sockman

n
Search Our Website
---
Map & Directions
Need a map and/or directions to our location? Check out our interactive map to ensure you arrive safe and on time for your yoga class
---
Regular Ongoing Classes:

4 levels, 5 days/week: Tuesday through Saturday (morning &/or evening).

Please see Class Schedule Page for days, times



Friday a.m. Level 3 on hiatus July to mid-August.
Saturday a.m. Basics taught by Angela Paranjape.

PLEASE CONFIRM that space is available before coming to a class (by phone or email)!

Please see http://triyoga.com/portfolio-items/ty-chicago-community/ for more about our mission! Also https://www.facebook.com/triyogachicago1/ on Facebook.

GIFT CERTIFICATES for special events are a wonderful idea!

SPECIAL THANKS to photographer Megan Doherty for studio photos on this website..... :)

---
"Your visions will become clear only when you can look into your own heart. Who looks outside, dreams; who looks inside, awakens." ~ Carl Jung
"We are not human beings on a spiritual journey, but spiritual beings on a human journey." ~ Chardin