Maretta Jeuland--Certified TriYoga Teacher,E-RYT 500
"I slept and dreamed that life is all joy. I woke and saw that life is all service.
I served and saw that service is joy." ~Khalil Gibran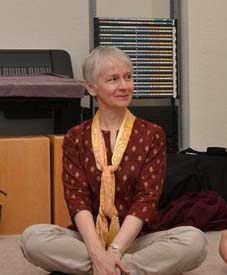 Maretta has studied TriYoga® since 1999. She is certified in Basics, Level 1 and Level 2. She has completed over 1,100 hours of TriYoga training workshops, courses and practicums--including Physical Anatomy, Subtle Anatomy, TY Teaching Methodology & Practicums, TY Prana Vidya (pranayama & meditation practices), Mudra, Yoga Philosophy (jnana), Yoga Sutras, beginning Sanskrit, Partner Yoga, TriYoga for Pregnancy, Vegan Cooking & Yoga Lifestyle. She has also successfully mentored several students in the certification process of TriYoga Basics and is currently an intern in both TY Level 3 and TY Prana Vidya.
Maretta loves connecting with students and sharing TriYoga's insights, though still feels like a novice to the amazing depth of TriYoga practices. Since 2005, her classes have been held in a beautifully-renovated home studio, which holds about eight students. Small classes encourage focused individual attention and community. Classes are offered according to seva (service for the benefit of others), the essence of karma yoga. Maretta is qualified as E-RYT 500 with Yoga Alliance, and as of December 22, 2018, has taught more than 5,400 logged hours of group and private classes. (In addition, she has extensive alignment experience in Iyengar yoga, attending regular classes since 2000).
Maretta hopes for students in her classes to find freedom to move toward wholeness and wellbeing, on all levels. For her, Yoga is about exploring/experiencing the body/mind in the present, while maintaining steady awareness of the breath--with each such breath consciously taken, the student aligns the spirit with that which is creative, joyful and sustaining of all beings in the natural world. Authentic Yoga challenges one's assumptions about the world and about oneself; it affects one's life in broad ways beyond the yoga mat! For more information, see https://www.yogauonline.com/therapists/maretta-jeuland.

Maretta especially admires master yogini and TriYoga® founder Kali Ray (Kaliji) for her generosity, joy and dedication to sharing TriYoga. She appreciates TriYoga's unique systematic approach that focuses on spinal flows and alignment and allows students to progress gently and safely. As students grow in physical capacity, their knowledge of transformative mental and spiritual energies increases as well.
Long before experiencing yoga, Maretta worked "au pair" in France, learning fluent French (relatively). She has an M.S. in child psychology with elementary teacher certification, and an M.S. in linguistics. For several years she taught English as a second language to adults on Chicago's South Side but then got involved in her children's public schools: she 1) tutored foreign language speakers in English, 2) wrote a series of grant proposals that established a State Board of Education-funded French language program that continues to this day; 3) wrote successful proposals that brought drug education and tutoring programs to the high school. She was hired to coordinate a peer tutoring program and was instrumental in developing the high school's first website. She also volunteered for 15 years with the high school's alumni association.
Maretta enjoys music and dance; walking near water and in forests; full moons; reading. She is an avid traveler, having made many trips with husband Abel to France, Poland and other countries in Europe, plus Tunisia, Singapore, Mali, Turkey, Peru and India. "There is nothing like experiencing a foreign culture to change one's habitual tendency to cling to a single, insular view of the world--and to challenge and refresh one's beliefs about what's 'true'!"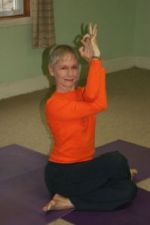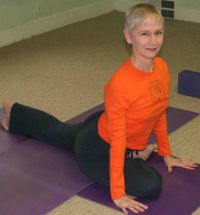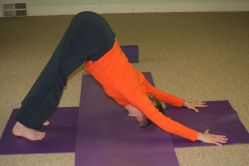 "When you inhale, you are taking in the strength from God.
When you exhale, it represents the service you are giving to the world." ~ B.K.S. Iyengar